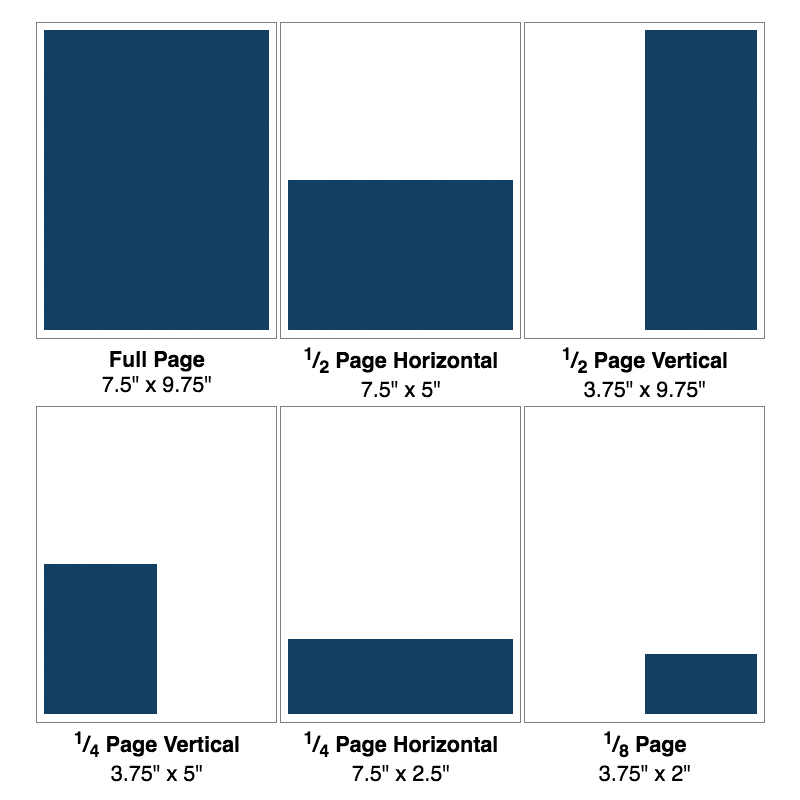 The above layouts show the orientations and dimensions of ads.
Adobe Illustrator
Create PDF files directly from the File > Save As dialog.
Adobe InDesign
Use the File > Export menu and select Adobe PDF from the Save as type box.
After clicking Save, the Export PDF dialog will appear. Change the Preset to [Press] and click Export.
Adobe PageMaker
Use the File > Export > Adobe PDF menu in Adobe PageMaker to create PDF files from your publication.
Select the "Print Job" control settings in Adobe Distiller when creating the PDF file.
Adobe Photoshop
Do not use Photoshop to design your ad as it will look grainy when printed unless it is a very high resolution.
Corel Draw
Export to an EPS file from the File > Export menu.
When creating an EPS file, include a header in TIFF format, include them as Text (not Curves) and include fonts.
Macromedia Freehand
Export to an EPS file from the File > Export menu.
Save as an EPS with TIFF preview and embedded fonts.
Microsoft Publisher
Print to a PDF using a PDF writer such as Adobe Acrobat or CutePDF.
Microsoft Word
Print to a PDF using a PDF writer such as Adobe Acrobat or CutePDF.
OpenOffice.org Writer
Use the File > Export as PDF… menu option.
Under Images select Lossless compression then click Export
FAQ
Q: What is the deadline
to advertise in the next newsletter?
A: The deadline is always the 8th of the month PRIOR to the issue.
Q: What is a "Bus. Class." ad?
A: Bus. Class. stands for Business Classified. It is our least expensive ad. Business Classifieds are line ads (text only) with a 40-word limit.
Print-Ready Ads
Print-Ready ads (also known as camera-ready ads in the printing industry) are ads that can be placed directly into the newsletter publication for printing without modification and are in PDF or EPS formats. PDF files are preferred as they avoid common font problems that can occur with other file formats. We also accept EPS files with embedded fonts or fonts that have been created to outlines.
Tips for creating Print-Ready Ads
1. Use the correct dimensions when creating the ad. We can't fit a landscape ad into a portrait position without shrinking it down smaller than you want — ditto portrait ads in a landscape position. Use the dimensions found on the Ad Specifications page when creating your ad.
2. Create the PDF from the same computer you designed it on. Documents can look subtly different between computers due to things like different versions of the software (Microsoft Word 2003 vs Microsoft Word 2007) and having different fonts installed.
3. After creating the PDF, open it up Acrobat Reader and compare it to the original document. This step is important because what you see in Acrobat Reader is how it will look in the newsletter. Make any corrections and repeat until the PDF looks like you want it to.
4. If your ad has images, print the PDF out and look it over carefully. This last check will ensure that all graphics look just as good in print as they do on the screen. If the graphics look grainy on the printed page they'll look grainy in the newsletter.